Private Lessons with Buddha Zhen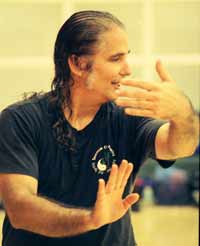 Buddha Zhen 818-723-2769
Learn the ancient art of Kung Fu on your own, with spouse, a friend or your family! The Kung Fu Bootcamp classes teach the 12 Tantui that Bruce Lee used to create his Jeet Kun Do system. These 12 Tantui lay the foundation for all swords and spears taught in traditional Chinese martial arts.
If you're too busy for a regular class schedule or you want to have classes nearby or at your home--
PRIVATE LESSONS are the perfect solution!
Learn and study this Kung Fu Bootcamp to attain the body and health you desire.
Schedule at least one Kung Fu Bootcamp per week to practice at least 4 other days each week.
In one year you will have an athlete's body and health
PLUS Kung Fu abilities you probably never imagined possible.